Following Content Also Features as a Guest Blog Post from Practice Balance.
My Experience As A Traveling Doctor in the Virgin Islands
A locum tenens is a person who temporarily fulfills the duties of another, and the term is often used for medical work assignments in locations of ongoing physician shortage. As the locum, you're going to a foreign place to work with people you don't know in a system you're not familiar with. It takes my concept of "safari anesthesia" that I discussed for out of OR cases to a new level. I've never quite felt the need or desire to try a locum assignment… until I took my recent sabbatical.
I wanted to do something anesthesia-related during my time off to challenge myself. While practicing in unfamiliar environments can be stressful, I've come to enjoy that challenge of working with (slightly) limited resources. I've grown to love doing the out of OR assignments and (office-based) fertility anesthesia. Also, I've only practiced anesthesiology within the system where I trained. There are so many ways to achieve the same effects of anesthesia and analgesia, and I wanted to see more perspectives. I wanted to try the life of a traveling anesthesiologist – even if for a brief time. I wanted to have a chance to practice some subspecialties that I never get to do in my part-time, nonacademic position at an academic hospital (supervision of CRNAs, coordinating the ORs, OB, regional blocks, etc.).
I knew this assignment would be atypical. The agency (locumtenens.com) warned me from the start that it was an "unusual assignment" – a government hospital with limited resources, in paradise, but with low pay. I looked into doing medical missions during my sabbatical but couldn't find an appropriate one where my husband and toddler would also have a safe place to stay and enjoyable things to do. This assignment sounded kind of like a mix of medical mission and locum work; instead of volunteering your time, you're essentially volunteering to work "in paradise" for grossly low pay. I signed up and planned our trip to the US Virgin Islands.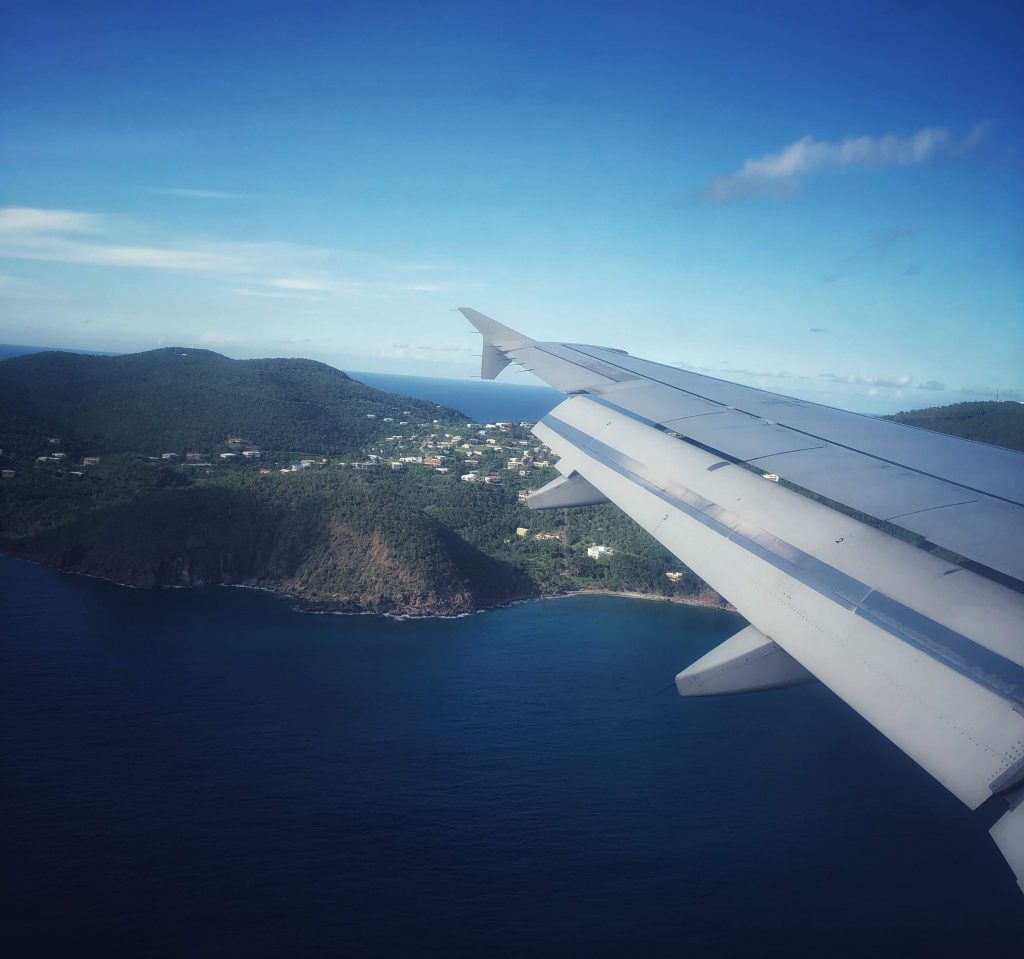 A study in contrasts
Upon arrival, we were greeted by huge, rolling green hills climbing from calm turquoise seas. I often associate islands with flat land, but not here. I could now see why everyone rents cars here. Aside from the poor condition of the streets and no sidewalks, some of the streets are so steep that when it rains (at least once a day), cars can't get up the hills. Which brings me to the driving: you drive on the left side of the road, but in "regular" sided (American) vehicles. It takes some getting used to.
Mansions tower next to shacks on the hills off the main road circumnavigating the island, with sparkling clean spaces right by hurricane destruction. There is still a lot of construction going on after a disaster in 2017. Things do not move quickly there.
Million-dollar yachts dock right beside destitute locals at the main the port, and at least one large cruise ship visits the island per day. The whitest of white skin would pour off the dock in droves, mixing with the blackest of black from the native population. Tourism is a huge industry there during certain times of year. I expected my patients to be a mix of native islanders, "expats" (it's a US territory, but there are lots of escapees from the continental 48 – mainly people who are really into sailing), and over-gluttonous cruise ship passengers. I was not wrong.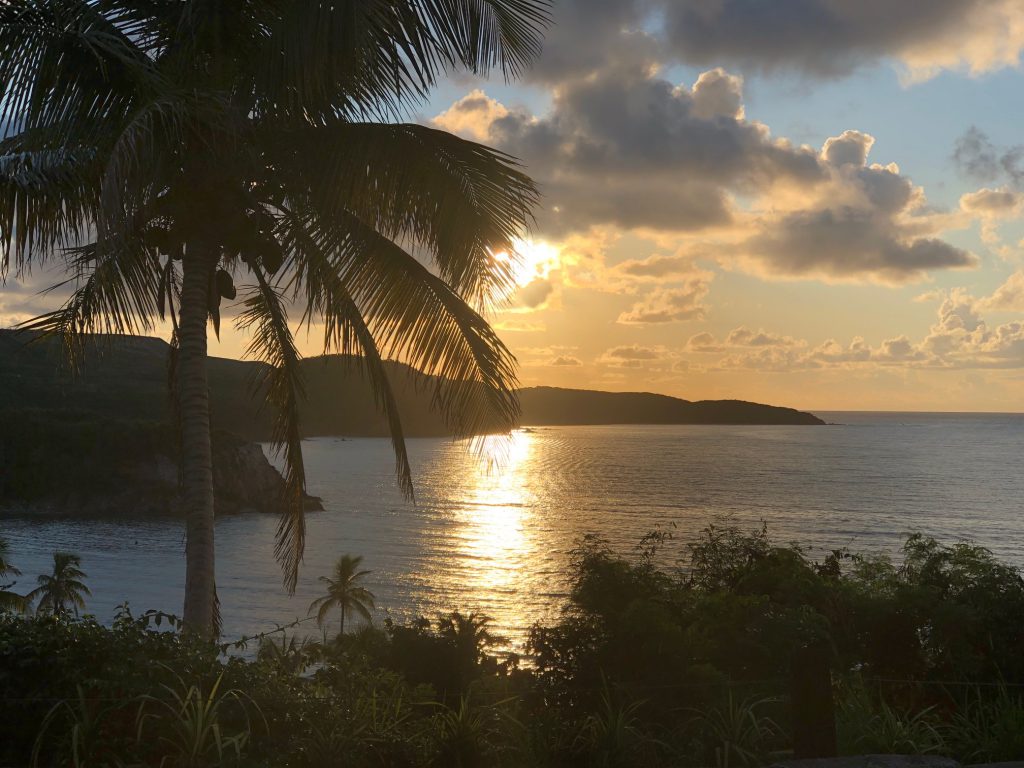 Unrivaled hospitality
To my surprise, the locum agency recently made a policy of sending another anesthesiologist for each weekly assignment on St. Thomas (which I later realized was a good addition; the call nights there can be so busy that one anesthesiologist on call every night for a week was burning people out). My counterpart was a macho, Argentinian American surfer from the northeast – quite my opposite (another noted contrast). We were wandering around the hospital on the first morning, when he blurted out toward the nearest nametag with this thick accent, "Where's the cafeteria?" The responder, a well-dressed elderly native islander, looked him square in the eyes with a smile and simply said with a sarcastic tone, "Good MORNING…" We quickly learned that on the island, it's customary to make formal greetings to every passerby; if you don't, it's considered rude. I found this true even in the port town grocery store among destitute wanderers.
Could you imagine how this might fly in the states? It was so refreshing and pleasant; I've been trying to adopt it into my own everyday interactions. The smallness of the island community became apparent as I observed the OR nurses with the patients. Often, a patient would have been the nurse's grade school teacher, coach, or family friend. That sense of familiarity obviously helped put the patients at ease, which reinforced my common practice of trying to find a commonality when I'm connecting with patients for the first time.
The islanders' friendliness wasn't limited to the hospital. On my first call night, I wrapped up all the day's cases and saw the last recovered patients leave late into the evening. Right after I returned to my AirBnB, I was called to come back immediately for an emergent C-section. After regathering the things I had just unpacked, I ran to the rental car and pulled out (on the left side) into the black night… only to be abruptly halted by a huge roadblock. An accident had recently occurred, the involved people were ok, but there was debris all over the one road back to the hospital. I got out and ran over to assess. The police didn't shoo me away but instead offered to help me; one peeled off and escorted me around to the hospital the "back way". I never would have found it myself in the dark. In the commotion, I even dropped my hospital ID on the street. Figuring this was never to be seen again and might be used by some random person to gain access to the hospital, it was turned in to the ER a couple days later!
A reminder of what we take for granted
The hospital staff was for the most part friendly, and patients were extremely grateful. When we had Puerto Rican or Haitian patients (mainly in Labor & Delivery), language barriers were sometimes an issue, as there were no in-house translators. It was either charades or use a phone-in translator, often with poor reception. The whole experience reinforced what I'm grateful to have every day at my regular job: multiple anesthesia techs to turn over the machines and equipment between cases. Endless pieces of specialized equipment at our fingertips whenever we need them (I witnessed cases cancelled or delayed hours simply because a piece of hardware was unavailable or an instrument needed to be sterilized before its next use).
Many different (good and bad) ways to practice medicine
The hospital reminded me a lot of working at a VA. There's a hodge-podge of modern equipment and archaic resources, wrapped up in a package of vast inefficiency. Some departments or groups are grossly overstaffed, while others are the opposite. For instance, during my time there, two anesthesiologists oversaw four CRNAs, but only 2 ORs could be run on any given day due to a lack of OR scrub techs/nurses. The daily cases would move along at a snail's pace, the CRNAs (who were getting paid to be at the hospital from 7 to 3 no matter what went on each day) would often do whatever they could to avoid working the OR. Then the nights on call would be quite busy.
I got to see differences in the practice of anesthesia. I questioned people's practices, and people questioned mine. Explaining why you do things and being criticized by others is an important part of examining and optimizing your techniques in anything – medical or nonmedical. Doing this is actually the basis for the final step in becoming a board-certified anesthesiologist, so 6 years after I passed my oral exam, it was refreshing to be put on the spot again.
Sadly, some of the practices I saw weren't exactly done with the utmost of patient health and safety in mind. Along with inefficiency in the use of resources, I saw inefficient and compromising management of patients – sometimes on the slow side and sometimes on the hasty side: drawn-out workups on critically ill patients, surgical "emergencies" that weren't really emergencies, etc. I won't go into unnecessary detail, but it made me uncomfortable.
Granted, some of these inefficiencies and time constraints were caused by the reality of island living. Things we would cancel or delay surgery for in the states (out of control blood pressure, ridiculously high glucose) are just everyday occurrences there. Patients who travel from a neighboring, even smaller island, don't have the luxury of returning to a primary care physician (what primary care physician?) for a blood pressure tune-up or traveling farther in a true emergency. And on the practitioner side, doing what would be considered "outside your scope of practice" in any stateside hospital is commonplace there. However, to my surprise, all the patients I saw during my time did relatively well and needed minimal postop pain medications.
A lesson in patience
"Island time" is a thing. If you've ever traveled to a tropical locale, you might have noticed it; the opening time for a restaurant might be loosely accurate, the speed of repairs or improvements vastly slower than what you'd expect in America. For the most part, the surgeons were refreshingly laid back. One played raggae and sung/talked to everyone in the OR while working. Another, upon my frustration when a patient was slow to emerge from anesthesia, said, "Doctor. It's ok, we're not in a rush. Let her sleep a little longer." What? This is very unusual surgeon behavior!
So who's got it wrong? Me or them? Maybe I'm the impatient jerk… I still maintain that there is a difference between being relaxed and being lazy, and I witnessed both during this assignment.
 Some physicians keep going back to St. Thomas over and over… I'm not exactly sure what draws them, because despite being in paradise near beautiful beaches with crystal clear water and surprisingly temperate weather, the job didn't leave a lot of time to enjoy the beauty of the island. The time I spent on the neighboring island of St. John with my family after the assignment was priceless, and all in all I'm glad I had this experience.
Blog Post Excerpt from Practice Balance.